Internet Radio Featuring: Ghost Stories, Weird Stories, and Murders, too!
Horror Theatre's Legend of the Station Keeper.
Some say that the old tower still sends out a signal, that the old station keeper could just never quit. His ghost sits up there, telling stories, strange and weird. Stories of those long gone, to all that will listen. His tales from long ago must not be forgotten - He sits, night after night, broadcasting the voices of the lost. His spectral arms working the soundboard as he readies his next tale Some say that wherever you go, he is around you. In every howling dog or coyote - every screech and mournful night owl's call, his tales are whispered on the cold night wind. He has many names: Crypt Keeper, Strange Dr. Weird, Keeper of the Book, Caster of Runes and Guardian of the Bones, Old Hermit and Old Witch Nancy. There are many more...Who Knows... the Tower's next tale may be about you...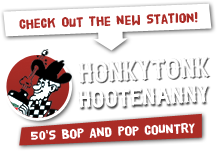 Please help support the broadcast. Every cent helps!

Cant Listen? Report Outages Here!

Bad Story? Cut off before the end? Report foulups here.